If you stick to one rule the whole time — i.e. if you only use 'said,' or you finish every dialogue line with an action beat — you'll quickly wear out readers. See how unnaturally it plays out in the example below with Sophie and Ethan:
Writing Dialogue In Fiction: 7 Easy Steps
Speech gives life to stories. It breaks up long pages of action and description, it gives us an insight into a character, and it moves the action along. But how do you write effective dialogue that will add depth to your story and not take the reader away from the action?
Getting speech right is an art but, fortunately, there are a few easy rules to follow. Those rules will make writing dialogue easy – turning it from something static, heavy and un-lifelike into something that shines off the page.
Better still, dialogue should be fun to write, so don't worry if we talk about 'rules'. We're not here to kill the fun. We're here to increase it. So let's look at some of these rules along with dialogue examples.
How To Write Dialogue In 7 Simple Steps:
Basic Dialogue Rules All Writers Should Follow
Before we get into the actual formatting and styles of writing dialogue (along with some tips for making sure it's good dialogue), let's go over some of the common and universal rules for writing dialogue in any book genre.
Each speaker gets a new paragraph. Every time someone speaks, you show this by creating a new paragraph. Yes, even if your characters are only saying one word, they get new paragraphs.
Each paragraph is indented. The only exception for this is if it's the start of a chapter or after a scene break, where the first line is never indented, including with dialogue.
Punctuation for what's said goes inside the quotation marks. Any time the punctuation is a part of the person speaking, they go inside the quotes so the reader knows how the dialogue is said.
Long speeches with several paragraphs don't have end quotations. You'll see more on this below, but overall, if one character is speaking for so long they have separate paragraphs, the quotation marks on the end are removed, but you start the next paragraph with them.
Use single quotes if the person speaking is quoting someone else. If you have a character who says, "Man, don't you love it when girls say, 'I'm fine'?", the single quotes indicate what someone else says.
Skip the small talk and focus on important information only. Unless that small talk is relevant for character development, skip it and get to the point, this isn't real life and will actually feel more fake if you have too much.
Know that characters don't always mean what they say
Just as "I'm good" in response to a friendly "How are you?" might not actually mean that you're good, characters can also say things that don't reflect the truth. Creating dialogue that places emphasis on what's not said (i.e. the subtext) can make your story that much more realistic and compelling.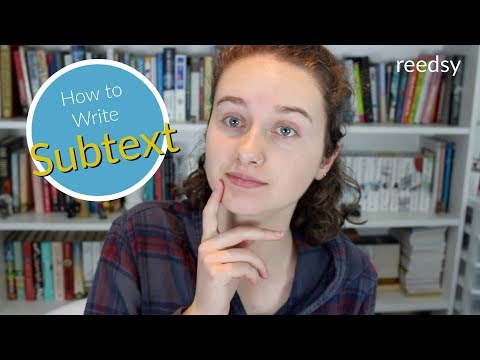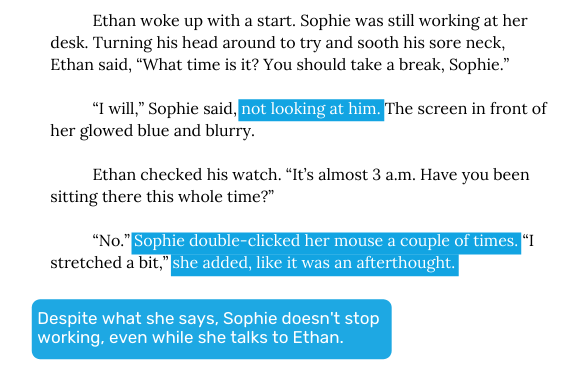 While Sophie claims she hasn't been obsessing over this project all night, the actions in between her words indicate that there's nothing on her mind but work. In weaving personality traits into the conversation through action beats, rather than describing Sophie as hardworking or using a "she lied" dialogue tag, you give readers a chance to organically get to know the characters
Remember that less is more
Our final tip is more of a reminder than anything. With a "less is more" mentality, you can cut out unnecessary bits of dialogue (the "boring bits" from tip #1) and focus on making sure the dialogue you do keep matters. Good writing is intentional and purposeful — it always strives to keep the story going and readers engaged — so the importance lies in quality rather than quantity.
One particular point we haven't really addressed is repetition. If used well (i.e. with clear intentions), repetition is a literary device that can help you build motifs and flesh out themes in your writing. But when you're writing dialogue and find yourself repeating well-established pieces of information, it might be a good time to step back and revise your work.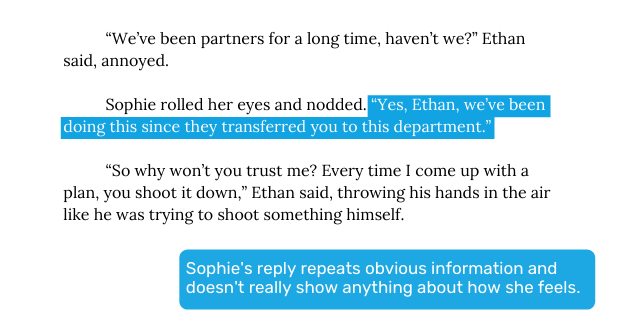 Having Sophie mention that they've been working together since the transfer feels repetitive without really adding anything to the conversation. Instead of rephrasing this bit of info, consider cutting Sophie's line altogether or adding something else, like "I can't believe we're talking about this again", to increase the tension between the characters.
The point is, a good dialogue is often a place where character dynamics can play out. Including needless phrasings or repetitions may decrease the strength of that interaction, and waste valuable space in a scene. If you're verging on repeating yourself, it's better to write less and let the readers infer more.
We know that writing dialogue can be intimidating, especially if you don't have much experience with it. But that should never keep you from including it in your work! Just remember that the more you practice — especially with the help of these tips — the better you'll get.
Sources:
https://jerichowriters.com/writing-dialogue/
https://self-publishingschool.com/how-to-write-dialogue/
https://blog.reedsy.com/guide/how-to-write-dialogue/